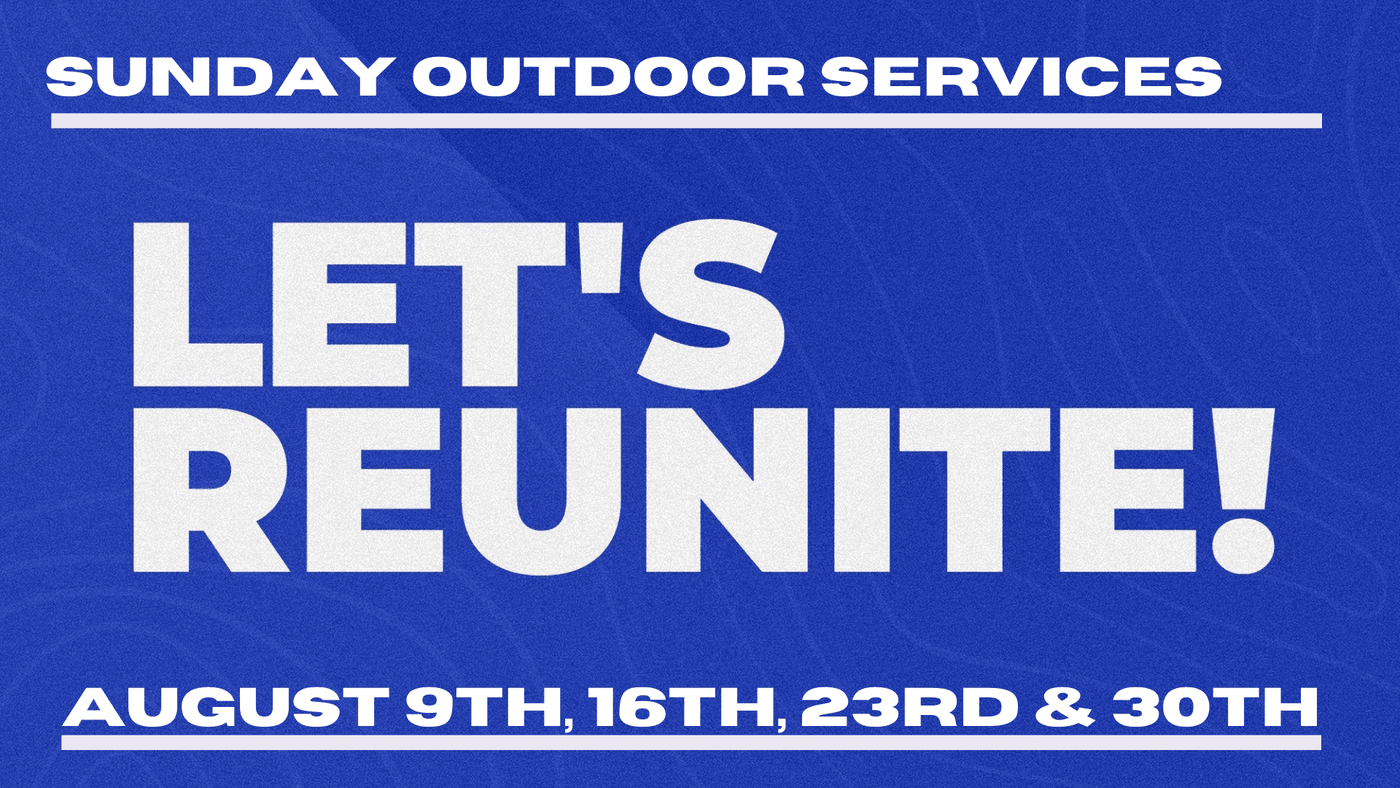 OUTDOOR REOPENING SERVICE
We're Getting Back Together!
Join us for CHURCH OUTDOORS every Sunday morning at 10:30am...STARTING SUNDAY AUGUST 9th!
We'll be gathering at the church for an outdoor worship service and hear an encouraging message from Pastor Mike. Bring your lawn chair (blankets are welcomed too) and come worship with us!
PLEASE NOTE: If you feel that worshiping at home is the best option for you, we strongly encourage you to do that. We will continue to stream our regular church services that weekend, Saturday at 6p and Sunday at 8:30 and 10:30 on Facebook and YouTube.
As per state guidelines, we are asking that you and your family wear face masks and follow proper social distancing.
Letter From Pastor Mike Plunket
Dear Risen King Church Family,
It's hard to believe just how much time has passed since we were able to meet together in person. These last few months have both felt long and short as we have continued to seek after the Lord together, even while apart. It has been amazing to see the Lord's faithfulness to us during this time, we have seen Him continue to meet with us and bless us as we continue on mission together. Our intercessors have been pressing in during this time and I am so thankful for their commitment to pray in the presence of God here in Rockland and across the globe. Our online media presence has been a tremendous blessing to me. I am incredibly grateful to our staff who have continued to seek after the the Lord together while finding innovative and creative ways to keep our church moving forward.
I know that there have been many questions as to when our church building will reopen for gatherings. Please know that our staff and governing board are committed to ensuring a safe experience for everyone. It is because of this that we would like to take our time as we make plans to come back together.
I want to share with you some plans that we have made as we look to reopen. We will share all of the details with you as they develop and as we learn more from our local government.
We will continue to provide an online community throughout reopening and beyond. We will also continue to find creative ways to meet the needs of our entire church body, including the children and youth of Risen King.
I felt it was also important to share with you a letter from our Metro District Superintendent, Kelvin Walker, as his leadership throughout this crisis has been a tremendous support. As we look to reopen together, please know that our staff and leaders are looking forward to the day when we can all worship together again!
We are praying for you, we are here for you, and we believe that God is still moving powerfully in our midst.
- Pastor Mike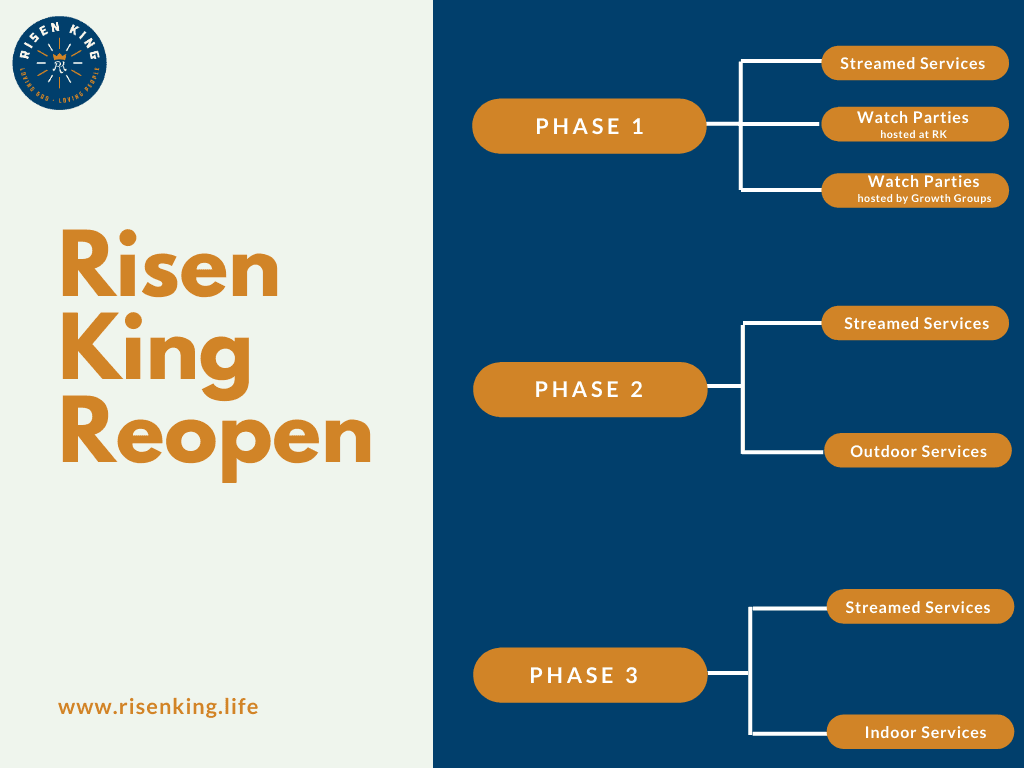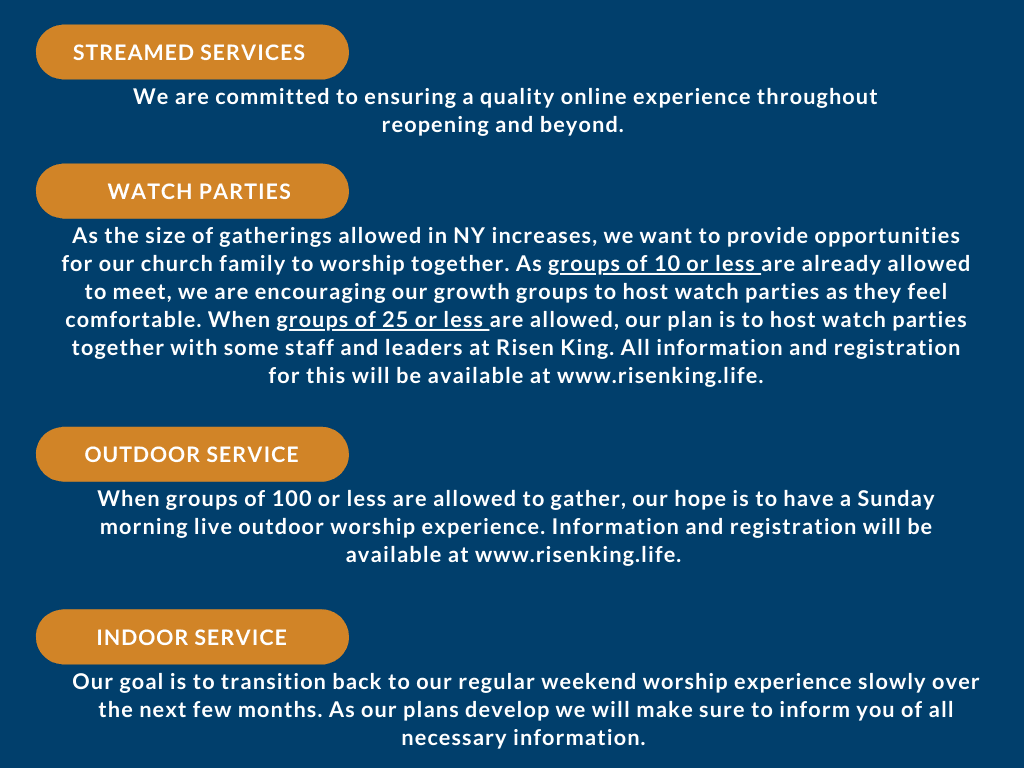 Kids and Youth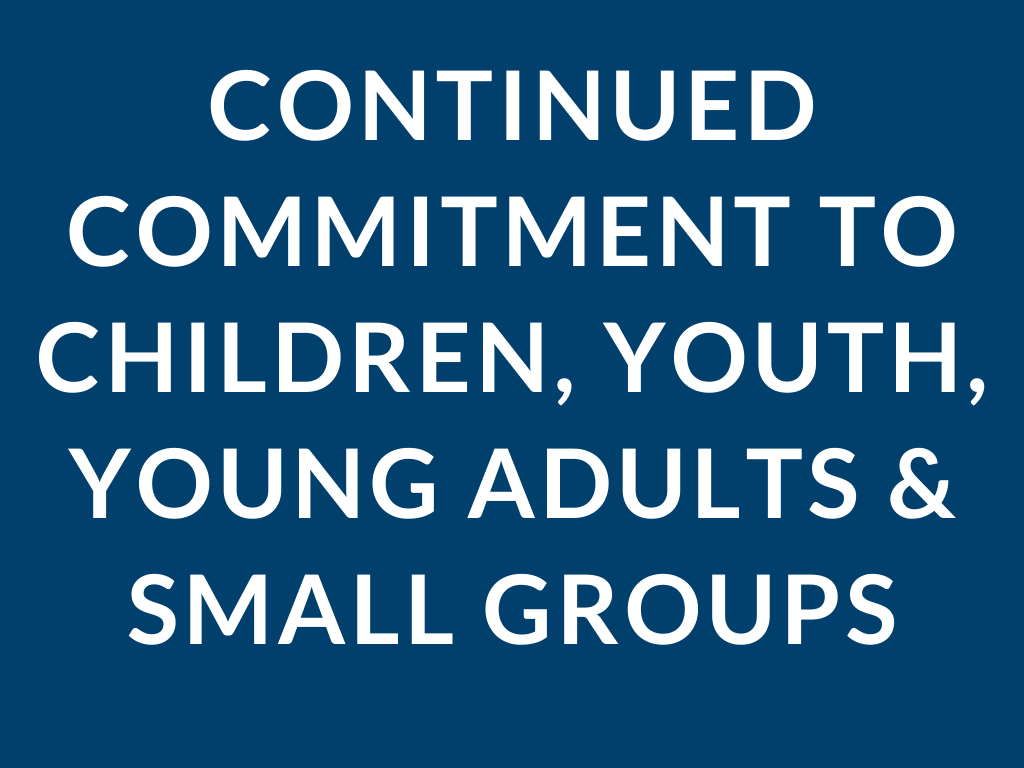 As we make plans to reopen, we want to make sure that we are providing the safest experience possible. Our children and youth ministries have been able to maintain relationships with the youngest members of our congregation during this time. We want to make sure that as we transition back to meeting in person we are doing everything we can to make sure that all parties feel safe.
We have already begun the process to install an air purification system in our building as well as ensuring that masks and hand sanitizer be made available to any attendees. We are continuing to look for ways to engage all of our people while maintaining the guidelines laid out for us by our local government.